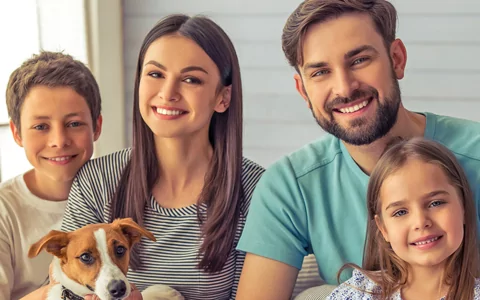 We call our general dentistry services "family dentistry," because we enjoy helping people of all ages, including children. Each patient has a particular set of needs, and we enjoy meeting those needs on a daily basis.
General dental services and regular appointments can help you save money and hassle. We aim to prevent dental problems from developing through exams, dental imaging, and cleanings, along with keeping and analyzing records of your dental health.
We're happy to accept new patients with families. We'll work with your little ones, get them comfortable going to the dentist, and build their healthy habits from a young age.
If you want a new general dentist in Owensboro, please contact Dr. Ben Thompson today. We'll fit you in as soon as we can. We look forward to helping you get your best smile possible!
What Are Family Dentistry Services?
Our family dentistry services are focused on preventing major dental problems that would cause your family members grief. Not everyone enjoys exams and cleanings, but they're actually much easier on you and your children than procedures that are necessary if small dental problems get worse.
Here are some of our general family dentistry services:
Exams: The exam is extremely important. A thorough checkup of your gums, teeth, and jaw helps your dentist find potential problems and to establish records of your dental health, including x-rays and panoramic images.
Gentle Cleanings: We make sure our dental cleanings are efficient and sensitive to your needs. We check on your gum health too, so we can help prevent bacterial buildup.
Pediatric Care: It takes experience to take care of children and make them comfortable. Dr. Ben is skilled at making children feel at home and teaching them good dental habits.
Extractions: When a tooth really must come out, we take care of it efficiently, professionally, and with a minimum of pain.
Prevention: We focus much of our cleaning, examinations, and patient education on stopping dental problems from developing in the first place. That can enhance your overall health and save you time and money as well as pain from various conditions.
Look through our website to see the wide selection of services we provide to our family of patients. If you or anyone in your household need general, cosmetic, or restorative services, please let us know how we can help you!
Dentistry for Kids
Your kids have precious grins, and we want to help them keep those smiles for a lifetime! Good oral health starts with regular cleanings, even from a young age. We provide gentle cleanings for the little teeth that make up the smiles you love most.
We also take time to teach your kids about how to brush and floss properly. Good hygiene habits are something you practice on a daily basis, and we want to help by showing them how to keep their smiles healthy day in and day out.
Dental anxiety is a common problem for patients of all ages, especially for little ones who have never sat in a dentist's chair before. We do all we can to provide a comfortable environment for patients of all ages. You can even bring your children to the office a few days before an appointment to meet the staff and get them familiar with the office.
Call Dr. Ben for Family-Oriented Dental Care
Do you want an experienced family dentist in Owensboro? Call the office of Dr. Ben Thompson to get an appointment today. We are excited to welcome you and to help you achieve your healthiest smile!