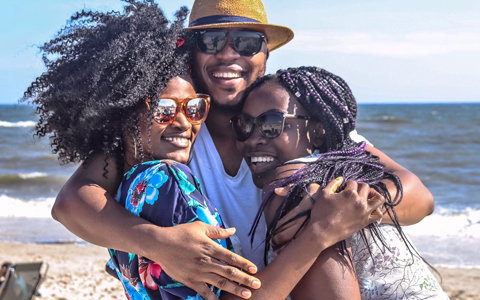 Out of all the cosmetic dentistry services we offer, veneers might be the most surprising. With very little effort on your part, they can quickly make your teeth look:
Straighter.
More even.
Better spaced.
Whiter.
Better shaped.
And much more.
Veneers can do all this without moving your teeth or replacing them. Veneers are a remarkable cosmetic service available here in your own community!
How Do Dental Veneers Work?
Dental veneers cover up the front of your most visible teeth and are made of thin layers of high-quality porcelain. Porcelain is strong, long-lasting, and stain-resistant. By covering the front of your teeth, we can make your teeth look any way you want. We can:
Make chips and cracks disappear.
Close up small gaps between teeth.
Make rows of crooked teeth look straight and even.
Cover spots and stains.
Reshape each tooth to looks its best.
In a short time, veneers can give you a stunning smile that you'd expect from a public personality. Veneers are an extremely convenient cosmetic procedure!
What Can You Expect from the Veneer Process?
You'll go through just a few steps to get veneers, which include:
Consultation and Exam: Dr. Ben will examine your dental health to get you ready to receive veneers and determine the best choice for your smile.
Impressions: We use digital dental scanners to make impressions of your teeth, which we then send to a lab. They create custom-designed veneers for you there.
Tooth Preparation: We clean your teeth and reshape the teeth slightly to get them ready to be permanently bonded with your veneers.
Bonding: We bond your veneers in place and make sure your resulting smile looks natural and beautiful!
Enjoying Your New Smile: You can smile confidently, knowing you have the smile you have always wanted!
With your new veneers in place, you'll be able to eat and smile normally. If you take care of them, you can keep your veneers looking beautiful for many years. Plus, we'll check your veneers at every regular appointment to keep track of their progress and ensure that you are comfortable and happy with them.
Get Cosmetic Results Quickly with Veneers
You and your family members can get brilliant cosmetic dental improvements quickly. Veneers can reshape each tooth or a whole row of teeth. You can finally get the white, amazing teeth you've always wanted! Call Dr. Ben now for a consultation.